Brackney's Service to Community Earns them Top Spot On Finest On the Emerald Coast
By Mat Pellegrino
The loss of a loved one is never easy.
And when it comes to honoring the life of that loved one, choosing the right funeral home can make all the difference. That could be the reason Brackney Funeral Service in Crestview was voted the Finest on the Emerald Coast for Funeral Care.
Serving the Crestview area since 1998, Brackney has one mission: to help ease the burden one may be going through following the death of a loved-one and also help improve the experience of arranging for their funeral.
That was the vision that inspired Terry Brackney to start Brackney Funeral Service over 20 years ago.
"In April 1998, my aspiration of serving the community was fulfilled when I opened Brackney Funeral Service. This month will make a total of 38 years of service to our community," Brackney said.
And that service has a special touch to it since it is family owned and operated.
"My daughter, Amber, is now attending mortuary college and is a member of our staff. She hopes to continue our family funeral business and giving to our community," Brackney said.
And giving back to the community is a big part of Brackney's calling, which might explain why the Northwest Florida community returned the favor and crowned them Finest on the Emerald Coast.
"It is an honor to be recognized by the people of this community as Emerald Coast's Finest in Funeral Care. The fact that people took time during our national crisis to vote for us, exceeds my expectations," Brackney said.
Whether you're looking for a burial or cremation, memorial service, chapel service or graveside service, Brackney is able to assist its customers with any need they may have during the funeral process. And he knows that as the years have gone by, so have the needs of those planning a funeral.
"As traditions have changed, we offer a range of services. From traditional burial, cremation, anatomical donation and out-of-town care.To the families we serve, a traditional funeral coach, a SUV funeral coach and two vintage funeral coaches are offered for services," Brackney said.
And being nestled in the heart of the Panhandle, Brackney knows how important it is to offer special services for military family members. "Brackney Funeral Home is part of a large military community, we make certain to offer a military honor ceremony recognizing those who served in any branch of Service," Brackney said.
"We welcome our military families and honor their loved ones with services that may feature an honor guard, rifle volley, the playing of taps, with folding and presentation of the flag."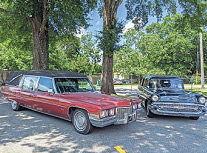 And that's what makes Brackney truly a caring facility: the way they handle each client individually. Regardless of budget, Brackney believes in catering to each individual based on their set needs by honoring their loved one(s) they way they would want to be honored. That means making each and every funeral meaningful and representative of the life that is being honored.
For those who may live out-of-state and might not have time to plan as much as they need, Brackney makes it easy. On their website, they showcase the numerous caskets they offer along with cremation urns and caskets—some as unique or quaint as you need them to be. And if Brackney doesn't have what you're looking for, they can get the casket or urn your loved one deserves.
Brackney handles everything from the choice of casket or urn down to floral arrangements. They know that every service is not the same.
"Whether it is a casket, cremation urn, art glass, or jewelry, we are here to help. We offer a wide range of choices, tailoring to individual and personal choices," Brackney said.
And as years have gone by since he first opened his doors, the needs have changed in funeral services, and Brackney has always been able to accommodate that diversity.
"Today, more people choose to pre-plan, to assure that their wishes are known. Whether simply writing your wishes down or funding ahead of time, it is an act of caring to help family members during a difficult time…pre-planning is an act of caring and helps to eliminate emotional pressure on the family," Brackney said.
With close to 40 years of experience in the funeral business, Brackney has the caring and professional staff available to make sure your loved one is memorialized appropriately, while easing the stress of planning for a funeral.
Located at 480 East James Lee Blvd., Brackney handles every aspect of the funeral from location to whether or not you want a private or public ceremony. They make sure to break down every aspect of the funeral service to ensure it's what their clients want for their loved ones.