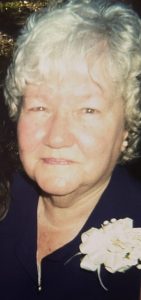 Carolyn Juetta (Judy) Griffith, age 85, of Baker, passed away at her home on Friday, July 22, 2022, with her family by her side.  She was born on February 21, 1937 in Baker to B.M. Brunson & Leethey Johnson Brunson.  Judy was a lifelong resident of Baker and a 1956 graduate of Baker High School. She worked tirelessly with the Baker Water System in its early years as an Office Clerk till retiring.  Judy was a faithful member of the Pilgrim Rest Baptist Church for many years.  She was an accomplished seamstress, who also enjoyed gardening, canning and working in her flowers, but most of all spending time with her family and loving on the grandchildren and great grandchildren.
She was preceded in death by her husband of 64 years Donald (Don) Griffith, her parents and her siblings.
Survivors include her children
Warren & wife Debbie Griffith
Fredia Griffith
her 3 grandchildren Drew & Keely Griffith, Ben & Gabrielle Griffith and Erika Adams
6 great grandchildren and a host of nieces, nephews extended family and friends
Funeral Services will be held at 11:00 AM, Tuesday, July 26, from the Pilgrim Rest Baptist Church with Pastor Geoff Prows officiating. Burial will follow in the Pilgrim Rest Cemetery.
The family will receive friends one hour prior to the service.
Brackney Funeral Service, Crestview, is entrusted with arrangements.